Outdoor Kitchen Appliances

Dallas Outdoor Kitchens and Hardscape ~ Proudly serving the greater Dallas TX area.
By Larry G. December 1st, 2017

As an outdoor Kitchen builder
, one question we get asked a lot is what are the best outdoor kitchen appliances to use. Regardless of brand, the most important thing is that the appliance is
100% stainless steel
and is made
to be used outdoors
. There is a big difference between indoor and outdoor rated appliances so let's talk about some of those differences.
Indoor Appliances for Outdoor Kitchens
Although some people do use indoor appliances outdoors, it is not a good idea to do so. Indoor appliances are not rated to be used outdoors and heat, humidity, cold, rain, and insects all take their toll on indoor appliances causing them to last a much shorter time, use more energy than outdoor rated appliances, and can result in poor performance of the appliance being used for something it was not designed to do.

Outdoor rated Refrigerators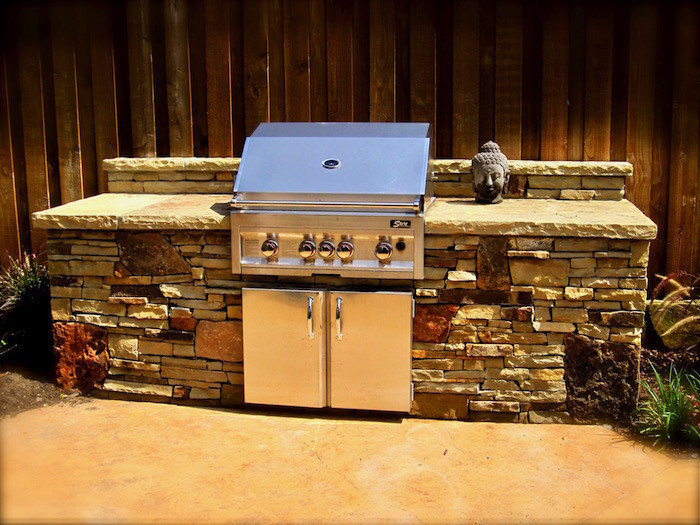 These refrigerators are designed to run in the cold, the summer heat, or wet weather. They are better insulated to keep food colder and they are better sealed to help prevent insect and rodent infestation inside the food compartments as well as the motor compartment area. Their compressors are higher quality and they are more energy efficient, so they do not run as long as indoor refrigerators. Outdoor refrigerators will have an "outdoor rating" on them certifying them to be used in the outdoor environment. Many of them will also have venting out the front of the unit so that heat can escape and not build up behind the unit. When we tested indoor and outdoor refrigerators side by side there was a huge difference in their ability to keep food cold. When it is 85-100 degrees outside the indoor refrigerators will run 24 hours a day and even on the highest setting food is never really very cold, however, the outdoor rated units will actually freeze food and drinks if temperature settings are turned up past the midway point. Cost wise there is a big difference between indoor and outdoor units but in our opinion, the difference is worth it unless you are ok with slightly cool food and drinks in the summer time and have them freeze up in the hot summer months. Expect to pay $850 -$1200 or more for an outdoor rated refrigerator with fancy high-end units going for $2000-$3000.
Check our outdoor kitchens photo gallery.

BBQ Grills

There are some important things to consider when deciding on what type and size
outdoor kitchen appliances
to you use in your
outdoor kitchen
. We like to ask our customers how many people will you normally be cooking for and do you entertain a lot or just a few times a year? If you cook a lot, have large family cookouts, entertain family and friends for parties then you may want to consider both a higher quality brand of appliance as well as larger size grills.
BBQ grills
come in a variety of sizes but the most common are 3 burners, 4 burners, and 5 burners. These grills are about 30, 34, and 42 inches long. The most popular size we sell is the middle 4 burner size BBQ grill. The better grills will come with rotisserie units, LED lights, and better-quality components. All good quality grills will be 100% stainless steel and any grill that is not will eventually rust and wear out. Painted metal may be pretty when new but in a short time it will show wear from the weather, heat, fat, and salts from cooking. Starting prices for good quality grills is about $1100-$1500, better quality grills may be $2000-$2500 or more, & high-quality grills made in America will be $3000-$5000 or more. There are even super high-end grills in the $10000-$15000 range for the consumer who wants the best that money can buy. Your outdoor kitchen contractor should be able to furnish you with a lot more detailed information on the brands and prices available.
What other appliances are popular besides BBQ Grills?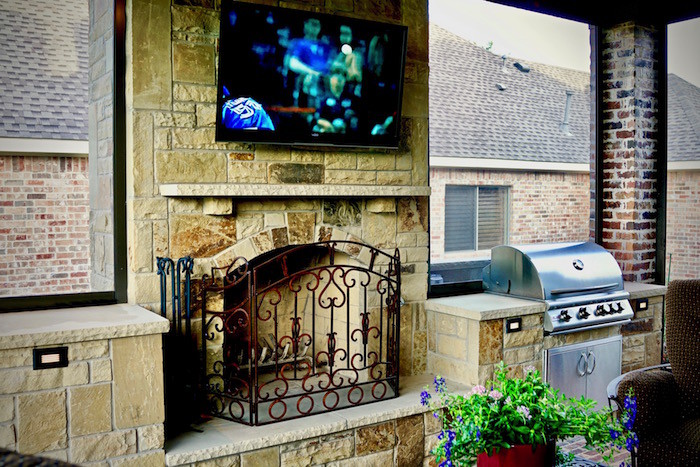 Single and double side burners, as well as power burners are useful for cooking pots of beans, crawfish, or heating cooking oil for deep frying. Doors and Drawers for storage are very useful to have for storage. Warming drawers, paper towel holders, cocktail units to hold wine, beer, and sodas, and built in insulated ice chests are popular with our clients. Pizza ovens and sinks can also be installed but they must conform to local fire and sanitary codes for health reasons.

Ceramic Smokers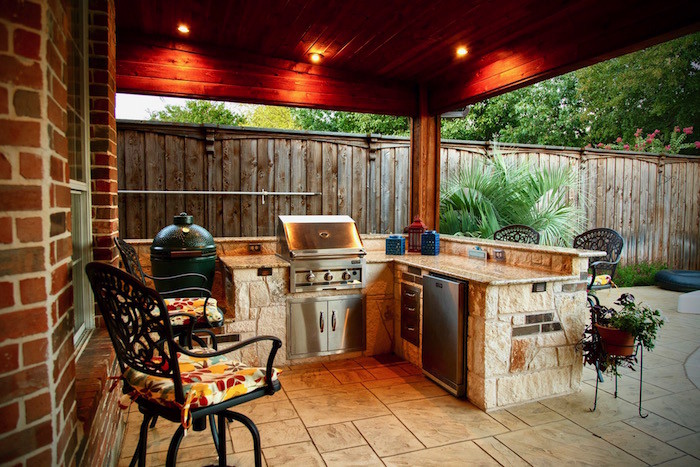 More and more customers are now adding
a ceramic smoker
to their outdoor kitchen project along with their
standard BBQ grill
. This gives them the ability to slow cook meats, bake, and even cook pizzas, something that is hard to do on a standard BBQ grill. There are many brands of ceramic cookers on the market, but most are very similar in design and the way they work. They also come in a variety of sizes and shapes including round and oval.
The ceramic smoker
uses high grade charcoal wood instead of the old hard charcoal briquettes. The wood starts quickly, burns for a long time, and gives the food being cooked a beautiful color and smoky taste that is hard to achieve on a gas grill. It can also hold a constant low heat for a very long time when cooking brisket, pork roasts, turkeys, or other large cuts of meat. Ceramic smokers are also very easy to cook on and help to keep meat moist.
Dallas Outdoor Kitchens and Hardscape
is an expert outdoor living builder and we would love the opportunity to create your fire feature in your outdoor living area. Give us a call to discuss what we can build for you. We will sit down with you and
create a design
that you will be proud to own.
For homeowners and others in the North Dallas & Collin county area, call us today at
214-908-0677
or fill out
our contact form
.
Larry Gucciardo
is the CEO and founder of
Dallas Outdoor Kitchens & Hardscape
. He has 25 years of experience in sales, design, and construction in the swimming pool and outdoor living industry. For more information on pergola and patio covers contact him via his website:
www.dallasoutdoorkitchens.com
Larry and Jarrad were very professional throughout the multi task job. We had an indoor rock wall constructed from floor to ceiling around our existing fireplace. The subs they use are true craftsmen and really care about the finished product and insuring the customers satisfaction. They are good people.
I found Dallas Outdoor Kitchen online and knew they were going to be the contractors I hire after reviewing all of their work and talking to Larry Gucciardo, Jerrad Jasperson, and their dynamic staff. The quality of their work was pristine and the project came out better than we imagined! Cheers to a job well done!
We had a great experience working with Larry and his team. The design process was easy, we had several options to choose from and the install team was very good, well-organized, clean and great to work with. Project was finished on budget and on time. I would definitely call them again for another project.