Kamado Style Charcoal Grills in Outdoor Kitchens

Dallas Outdoor Kitchens and Hardscape ~ Proudly serving the greater Dallas TX area.
By Larry G. January 8th, 2018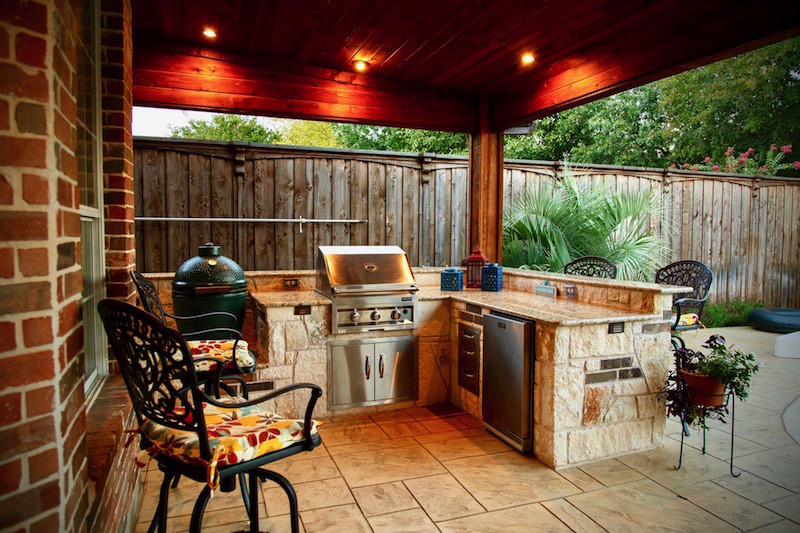 A little history of the Kamado grill
The Kamado style charcoal grill
has its origins dating back more than 1600 years ago from Japan and Korea. The original meaning of the word Kamado comes from Korea and was the definition of "stove or cooking range" according to Wikipedia. Traditionally it was used inside the home. That changed back in 1974 when The
Big Green Egg
company was born, and since then it has become the most famous of all modern ceramic
Kamado style grill manufacturers
in the USA that is now used in outdoor kitchens. It was the first commercially successful ceramic grill introduced and it is still the most popular of all Kamado BBQ grills sold today. It has been so successful that there are now a great many other companies that manufacturer their own version of Kamado ceramic grill.
Most modern
Kamado grills
share a lot of common features. They are all built out of some sort of ceramic material, generally they are a round shape but one company, "Primo Grills" also sells an oval shape that has gained a lot of supporters that favor the oval shape. They all have a dome top and a vented lid to help regulate the heat and air flow. In addition, they all have some sort of vent system located at the bottom of the cooker that allows for air intake below the charcoal. The wider you open the vents at the top and the bottom the more air is available to the charcoal and the hotter the fire will burn.
The thickness of the walls of the Kamado grill will vary from manufacturer but for the most part they are approx. 1-1 ½" thick. The thickness of the ceramic material is what makes the grill hold in it's heat so well and allows the temperature of the grill to be easily maintained at a constant rate over a long period of time. Because of this, the Kamado grill is easy to cook on and it excels at smoking meats very slowly at a low heat. It also helps hold in moisture better than a metal style smoker, so the meat tends to be more moist and tender. Metal style smokers can lose their heat more easily on a cold, windy day but the thick ceramic walls of the Kamado grill are generally unaffected due to their extreme heat retention ability. Because of this, these style grills are becoming very popular to include in outdoor kitchens.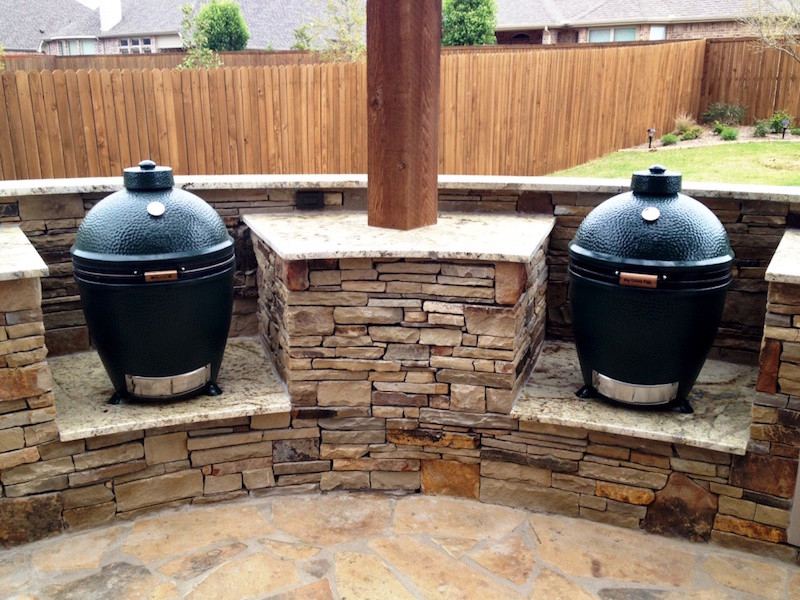 Kamado Grills
can do more than just smoke food, in addition, you can bake bread in them, and cook pizza with an optional ceramic pizza plate that most manufacturers sell as an optional accessory. In fact, just about anything you can cook in a traditional stove you can also cook in the ceramic grill. There are a great many recipe books for sale showing how to cook pasta, cookies, cakes, pies, and all sorts of vegetables. Also, you can cook fish, pork, chicken, beef, lamb, and any other sort of meat.
The Kamado grill
also is used like a traditional BBQ grill for cooking directly over the charcoal and many people swear it produces the best tasting food of any BBQ grill they have ever used.
As an outdoor
kitchen contractor
, we at
Dallas Outdoor Kitchens
build in a lot of the Kamado style ceramic smokers into our client's kitchens, in fact, many people build their kitchens with a traditional stainless-steel gas or propane BBQ grill and a ceramic Kamado grill along side it. This gives them the ability to cook a few burgers quickly on the traditional grill or when time is not in short supply they can slow cook and smoke food on the ceramic grill instead. Many years ago, the only option for charcoal was to use the hard briquette style that was available for sale everywhere but today the Kamado ceramic grills instead use a natural uncompressed charcoal wood that lights very quickly and easily and gets ready to cook in as little as 15 minutes. No more waiting for 45 minutes for the charcoal to get hot enough to cook on.
Kamado grills come in a lot of different sizes and can be adapted to fit perfectly in your outdoor kitchen area depending on your cooking needs. Also, each manufacturer sells an assortment of accessories that you can buy to complement your new grill. Things like BBQ rack dividers for cooking ribs, racks that fold in half to make adding charcoal while cooking easy, and beer can chicken holders are popular. Ceramic plates can be used for pizza or bread as well as for diffusing the heat for more indirect even smoking and cooking. Some grills have multiple racks, so you can cook both meats and vegetables separately at different levels inside the grill and allow the vegetables to cook at a lower temperature.
Sizes vary by manufacturer but some of the popular brands such as
Big Green Egg, Primo, and Kamado Joe
now sell what they refer to as extra small, junior (or small) sizes, medium sizes, large sizes, and extra-large sizes. The junior sizes are typically good for cooking a couple of chickens, 6 burgers, a small 8-10-pound turkey or 6-8-pound pork roast, anything larger than that and you will want to buy a medium or large grill. The large size is the most popular of all the sizes and will work for most families. The extra large is for someone that wants to cook really large items or multiple roasts, ribs, or two turkeys at the same time. The very small grill is only good for 1 or 2 people but might work well for people with very limited space or wish to use the grill like a traditional Korean grill for cooking small items.
As of this writing, the Big Green Egg only comes in green (as the name implies) and although it is a great cooker some people just don't like the color so well. The Primo grill comes in black or white, round and oval and they also have a special addition Jack Daniels model with the Jack Daniels logo on it. Kamado Joe comes in a beautiful red color with black lid and it does look smart as a color combination. Of all the Kamado style ceramic smokers on the market I do have to admit that I personally like the Kamado Joe the best and is what I currently own. Having said that, each of these 3 brands cooks extremely well and it may come down to what features or colors you personally like the best. As far as costs go, each brand is competitively priced. Prices range from about $500-$550 for a medium, $750-$800 for a medium, $950-$1100 for a large and $1500-$1900 or more for the extra-large.
The original Kamado grill has an ancient history and today we use a popular modern version of it in our outdoor kitchens. It is a versatile cooker that works equally well for smoking, grilling, slow cooking, and baking. It is a fantastic grill that you may want to consider adding to your outdoor kitchen cooking area to give your food the authentic smoky taste of cooking on a charcoal fire that can't be beat.
Dallas Outdoor Kitchens and Hardscape
is an expert outdoor living builder and we would love the opportunity to create your fire feature in your outdoor living area. Give us a call to discuss what we can build for you. We will sit down with you and
create a design
that you will be proud to own.
For homeowners and others in the North Dallas & Collin county area, call us today at
214-908-0677
or fill out
our contact form
.
Larry Gucciardo
is the CEO and founder of
Dallas Outdoor Kitchens & Hardscape
. He has 25 years of experience in sales, design, and construction in the swimming pool and outdoor living industry. For more information on pergola and patio covers contact him via his website:
www.dallasoutdoorkitchens.com
Larry and Jarrad were very professional throughout the multi task job. We had an indoor rock wall constructed from floor to ceiling around our existing fireplace. The subs they use are true craftsmen and really care about the finished product and insuring the customers satisfaction. They are good people.
I found Dallas Outdoor Kitchen online and knew they were going to be the contractors I hire after reviewing all of their work and talking to Larry Gucciardo, Jerrad Jasperson, and their dynamic staff. The quality of their work was pristine and the project came out better than we imagined! Cheers to a job well done!
We had a great experience working with Larry and his team. The design process was easy, we had several options to choose from and the install team was very good, well-organized, clean and great to work with. Project was finished on budget and on time. I would definitely call them again for another project.