10 Tips for Creating the Perfect Outdoor Kitchen

Dallas Outdoor Kitchens and Hardscape ~ Proudly serving the greater Dallas TX area.
By Larry G. August 19th, 2017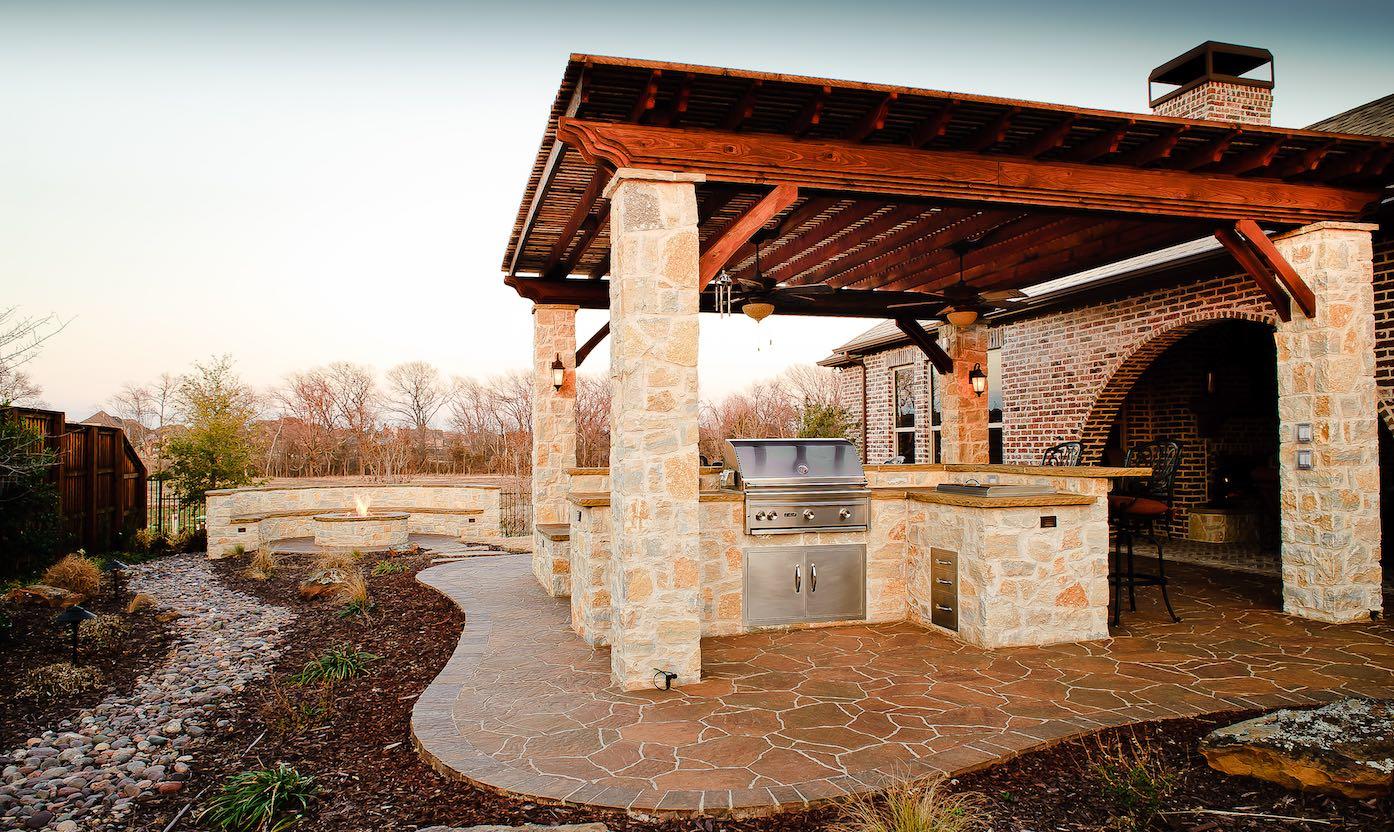 So, you're in the market for a new
outdoor kitchen
. You have some ideas in mind, but you're not entirely sure what the process is for creating
a perfect outdoor kitchen
.
An
outdoor kitchen builder
will help you with the nitty-gritty. But the hallmark of a great contractor is their ability to listen to your ideas too. Learn some handy tips for your customized outdoor kitchen.
In this article, you'll learn
10 tips
that will bring your
outdoor kitchen
alive when you hire an outdoor kitchen contractor.
10 Essential Tips to Add to Your Custom Outdoor Kitchen
When it comes to designing your first outdoor kitchen, you may have some definite ideas. However, there are some practicalities that your designer will need to incorporate into your final design too.
Here are those 10 essential tips to create the
perfect outdoor kitchen
:
1.Your patio area will bring your outdoor living spaces together.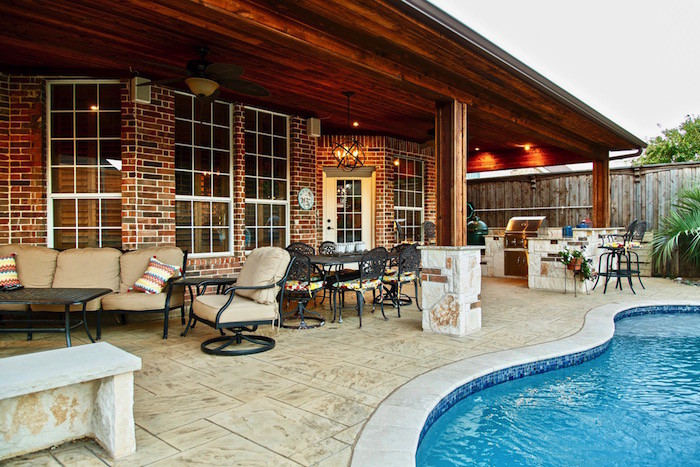 This is a vital part of the design and build process of your outdoor kitchen so that everything will flow together well.
There are many different types of material that you can use for your outdoor kitchen's patio. But remember, you want a product that can withstand a lot of foot traffic, that requires little to no maintenance, and you want it to blend well with the rest of your outdoor living areas.
For example,
Belgard's Interlocking Pavers
work well as an outdoor kitchen patio because:
- They're low maintenance
- They stand up well in high traffic areas
- They won't crack when the soil contracts or expands
- They can be easily reset, re-leveled or removed
- They can withstand weather extremes such as hot and cold temperatures as well as our winter's freeze/thaw cycle.
- They come with a superior lifetime warranty
Read more about the benefits and features of Belgard Interlocking Pavers in this blog post.

2. Knowing the ideal spot for your outdoor kitchen.

Your designer will help you find the perfect spot for your new outdoor kitchen. You don't want it isolated and away from the party. Instead, you can have a big outdoor kitchen space that includes a raised bar area with stools to encourage your guests to hang out with the cook.
Likewise, you want protection from the elements so that people feel comfortable and enjoy experiencing your outdoor kitchen. Your outdoor kitchen contractor will show you the best spot on your property to build your kitchen. Ideally, it's a place facing away from the direct wind, the sun, and rain.
Read more about motorized shades for your outdoor kitchen.

3. Adding appliances and utilities to cook the perfect meal.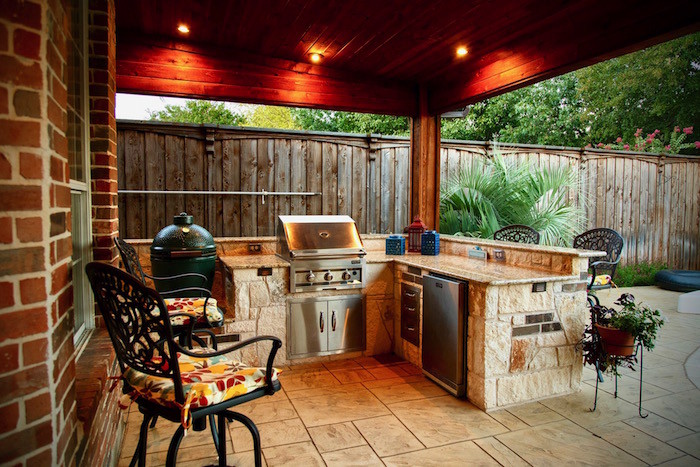 When customizing your outdoor kitchen, you want to make sure that you have the room to create the perfect meal. You'll need appliances for cooking, refrigeration, lighting, and cleaning.

When your contractor works with you to design your customized outdoor kitchen, they'll also talk about planning this space near water, electric, and if needed, gas lines, to hook up your appliances.


4. Adding landscape lighting.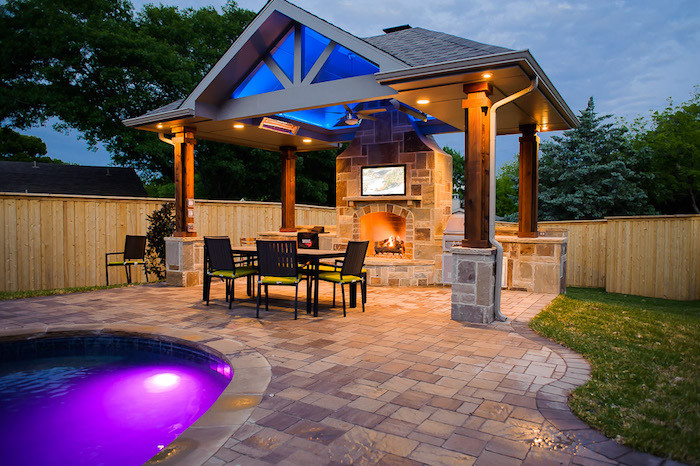 Practically speaking, you want to include outdoor lighting in your new kitchen. You'll need lights around the grill, cooking and cleaning areas.

But you also may want to include landscape lighting to the rest of your backyard, so your guests can meander around to other outdoor spaces—including areas to sit down to eat. LED lights are the latest trend in outdoor living areas and can be used in a variety of locations using a tiny fraction of the energy cost compared to regular lighting.


5. Your outdoor kitchen in zones.
Your builder will guide you to include different zones in your kitchen. These spaces include countertops and appliances necessary for completing kitchen tasks:

- Cold areas consist of refrigeration, freezers and beverage coolers.
- Wet areas include your sink and countertop areas to wash dishes and clean up.
- Hot areas include a grill, smoker, pizza oven as well as a place to hold food as you cut, chop and cook.
- Dry areas consist of storage areas, countertops, and storage cabinets to hold dinnerware, glassware, and essentials—such as herbs and spices.
6. Low maintenance countertops and storage.
Since your
stone outdoor kitchen
is, well, outside, the entire area needs to made of sturdy materials to handle rain, wind, freezing temperatures and sweltering conditions.
You can add countertops and cabinets in stainless steel or natural stone that can handle harsh weather conditions, require little maintenance and last for a long time. Granite tops are excellent as a countertop choice, are easy to wipe down and clean, and look as good outdoors as they do indoors.
7. Your outdoor kitchen needs to complement your home's existing architecture.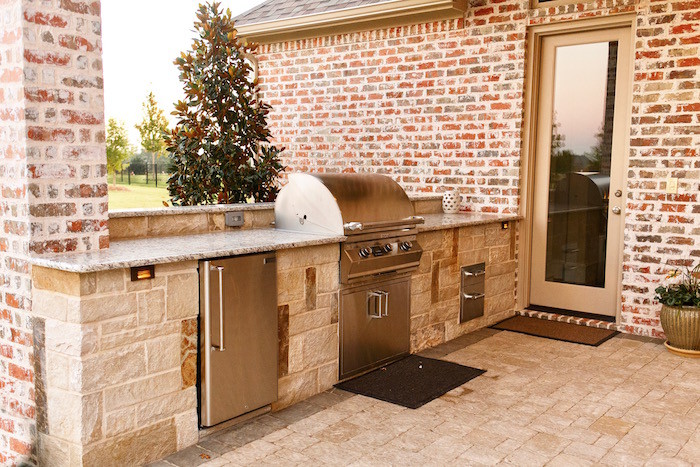 When it comes to any outdoor living space, it needs to match with your home's existing architecture—in color, style, and building materials. Your designer will show you options that keep the integrity of your home's style.

Your outdoor kitchen also needs to mesh with any existing exterior rooms. While you can mix up your kitchen's flooring with different types of pavers, it still needs to be part of the entire outdoor floor plan.


8. Add a touch of ambiance.
Today's outdoor kitchens and dining areas can include televisions and stereo systems designed for the outside. Imagine watching football on the big screen while having your tailgate party in your outdoor kitchen.


9. Remember—comfort is key.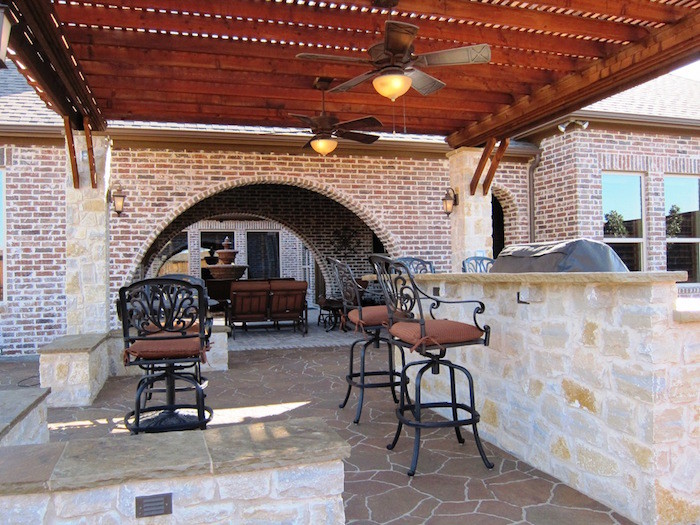 You want your counter and cooking areas to be the right height so you can easily create sumptuous meals. Likewise, you want to include outdoor furniture with cushions, pillows, an outdoor fireplace, tables, chairs and other pieces for people to comfortably dine and socialize.

You can add covers like a roof or a pergola to filter the sun and to shield your guests from the rain. You can also add retractable blinds to lower to block out the sun's rays from your outdoor living space or keep out pesky insects.


10. Four season enjoyment.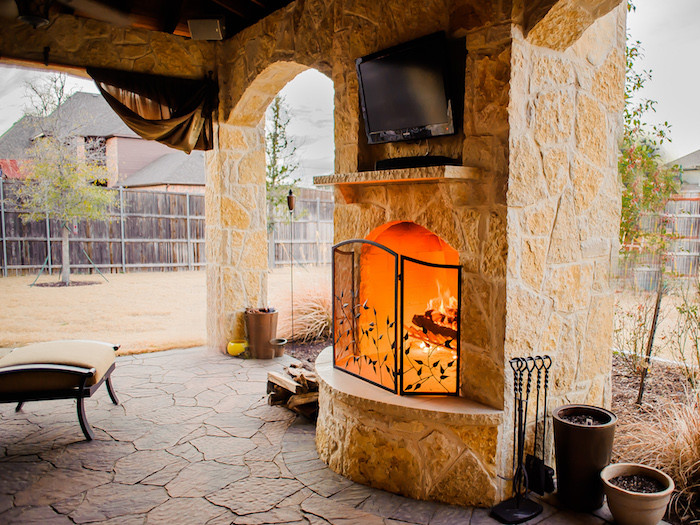 You can enjoy your outdoor kitchen throughout the entire year.
Fireplaces and fire pits
not only heighten the ambiance, but they also provide heat and light for the colder winter months.
Enjoy the process of building your
outdoor kitchen
. You really can extend your home's living space by connecting the inside with the outside, as well as using these outdoor spaces to entertain your family and friends.
If you're ready to start your outdoor kitchen construction, you need
Dallas Outdoor Kitchen and Hardscape
. The company works with you every step of the way.
For homeowners and others in the North Dallas & Collin county area, call us today at
214-908-0677
or fill out
our contact form
.
Larry Gucciardo
is the CEO and founder of
Dallas Outdoor Kitchens & Hardscape
. He has 25 years of experience in sales, design, and construction in the swimming pool and outdoor living industry. For more information on pergola and patio covers contact him via his website:
www.dallasoutdoorkitchens.com
Larry and Jarrad were very professional throughout the multi task job. We had an indoor rock wall constructed from floor to ceiling around our existing fireplace. The subs they use are true craftsmen and really care about the finished product and insuring the customers satisfaction. They are good people.
I found Dallas Outdoor Kitchen online and knew they were going to be the contractors I hire after reviewing all of their work and talking to Larry Gucciardo, Jerrad Jasperson, and their dynamic staff. The quality of their work was pristine and the project came out better than we imagined! Cheers to a job well done!
We had a great experience working with Larry and his team. The design process was easy, we had several options to choose from and the install team was very good, well-organized, clean and great to work with. Project was finished on budget and on time. I would definitely call them again for another project.