Benefits of using natural stone and Belgard pavers

By Larry G. July 24th, 2017
What are Interlocking Pavers?
Interlocking pavers
are materials that are sometimes referred to as paving stones, brick pavers, concrete pavers, or stone pavers. Because of their strength, pavers can be used extensively for high traffic areas such as
driveways, walkways, swimming pool decks, and patio
s. Pavers are also used for commercial applications such as corporate centers, parking lots, roadways, and even at airport tarmac areas. We, at
Dallas Outdoor Kitchens and Hardscapes
, prefer to use natural travertine stone pavers or genuine
Belgard Paver products
due to their inherent strength, durability, long warranty, and unbeatable beauty. Most interlocking pavers are made from natural stone, concrete and mixed minerals, as well as porcelain.
Cost Comparison of Pavers
•The initial cost of installing both stone and Belgard pavers in our region of Texas is comparable to that of stamped or pattern concrete material, however the benefits of using pavers will be far greater than any type of concrete. The reason is that although beautiful when first installed, pattern concrete has a color dye added on the surface of the base concrete material, along with a coating of clear sealer on top. Over time, the sealer wears away and the underlying color is then exposed to the UV radiation of the sun as well as foot or vehicle traffic. Once this happens you must reapply the color and or sealer to protect it. This ongoing cost is not inexpensive and current costs in the DFW area average $2.00-$3.00 a sf for sealing and an additional $1.00 or more per sf for adding more color. None of the pavers that we install require any sort of sealer or color to maintain their beauty, in fact, there is no need to do anything to them other than an annual cleaning with basic soap and water.

•Wood deck material is usually a lot more expensive to install and maintain than pavers, in addition, most wood will warp, rot, splinter, and must be stained or resealed on a regular basis (usually annually). That makes wood a high maintenance material and a much shorter lifespan.

•Synthetic wood is generally more expensive than natural wood, only comes in a very few limited colors, and many times it has more of a plastic or man-made look and feel that leaves it much less attractive looking. It also can get extremely hot to the touch in the hot Texas summer.


12 Features and Benefits of Using Pavers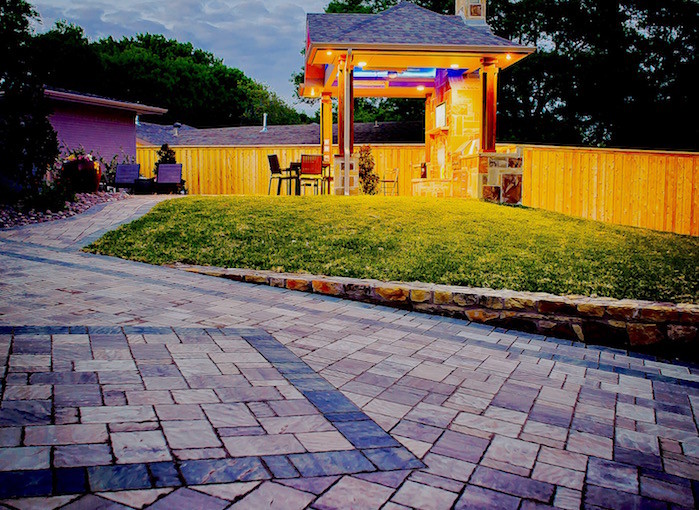 1. Under normal use, most pavers will not crack and are made to allow soil expansion or contraction like we have in the Dallas metroplex area. Our clay based soil is famous for causing concrete patios, pool decks, and driveways to crack but pavers are designed to allow the underlying soil to move, because of this, they do not crack or break like poured concrete does.

2. If the need arises, interlocking pavers can easily be picked up, reset, moved, re-leveled, or removed completely with little or no impact to the surrounding areas. This makes them ideal to use where you have a lot of ground movement. Removal and replacement is quick and easy and repairs are not visible under normal circumstances.

3. Paver products generally will come with a superior warranty when compared to stamped concrete, wood, or other materials, in fact, most poured concrete products come with little or no warranty against cracking, heaving, or the sealer wearing off.

4. Pavers are unique because they are a modular solution and will allow access for underground maintenance on electrical cables, deck drainage, sewer pipes, and tree roots. Should you have a problem with something underground you can easily remove a section of pavers, do whatever repair you need below them and then replace the pavers and they will look as good as new. This is not something you can do with any type of pattern or poured concrete material.

5. Interlocking pavers do not require any sort of expansion joints which can look unattractive and break up the pattern in the deck, this makes pavers ideal in creating a seamless installation.

6. Pavers do not require any extended curing time and can be walked on almost immediately after being installed.

7. Unlike poured concrete products, interlocking pavers can be installed in almost any temperature or climate zone.

8. Because pavers are modular they can withstand extreme temperature changes of heat or cold and are highly resistant to freeze/thaw. They work just as well in the high heat and humid areas of the country as well as in the far northern areas with harsh winter weather.

9. Stone & Belgard Pavers do not have to be re-colored or resealed like pattern concrete or acid stain concrete decks do. Instead, the color goes all the way through the material rather than just a thin coating on the surface.

10. Most paver material is 8,500 psi or, almost 3 times as strong as regular concrete and they are available in a wide range of colors, shapes, and patterns. Porcelain and stone pavers can reach strength levels as high as 38,000 psi or more making them super strong and far more durable than poured concrete.

11. Pavers are naturally very slip resistant making them safer to use around children, senior citizens, and swimming pools. Unlike pattern concrete, pavers maintain their slip resistance for a lifetime.

12. BELGARD PAVERS all come with a LIFETIME WARRANTY on materials!


Where to use pavers:

Pavers are ideal to use for patios, driveways, walkways, swimming pool decks, outdoor living areas, commercial high traffic areas, and retaining walls. They are superior in strength, beauty, and durability when compared to pattern concrete. They work equally well in areas that are subject to ground contraction, expansion, and wet areas.


Who should install your pavers?
Although anyone can install pavers you should consider using both an ICPI certified and Belgard Authorized contractor. These contractors have superior knowledge and specialized training and adhere to construction codes set forth by both these agencies. In addition, these paver contractors will install tens of thousands of square feet of material annually and have large crews available to get your project done quickly, efficiently, and will have superior looking results.
Larry Gucciardo
is the CEO and founder of
Dallas Outdoor Kitchens & Hardscape
. He has 25 years of experience in sales, design, and construction in the swimming pool and outdoor living industry. Dallas Outdoor Kitchens and Hardscapes is an ICPI certified paver installer and Belgard Authorized Contractor for Interlocking Pavers working in the Dallas Texas metroplex. For more information on pavers contact him via his website:
www.dallasoutdoorkitchens.com
Larry and Jarrad were very professional throughout the multi task job. We had an indoor rock wall constructed from floor to ceiling around our existing fireplace. The subs they use are true craftsmen and really care about the finished product and insuring the customers satisfaction. They are good people.
I found Dallas Outdoor Kitchen online and knew they were going to be the contractors I hire after reviewing all of their work and talking to Larry Gucciardo, Jerrad Jasperson, and their dynamic staff. The quality of their work was pristine and the project came out better than we imagined! Cheers to a job well done!
We had a great experience working with Larry and his team. The design process was easy, we had several options to choose from and the install team was very good, well-organized, clean and great to work with. Project was finished on budget and on time. I would definitely call them again for another project.