Pergolas & Patio Covers

By Larry G. August 2d, 2017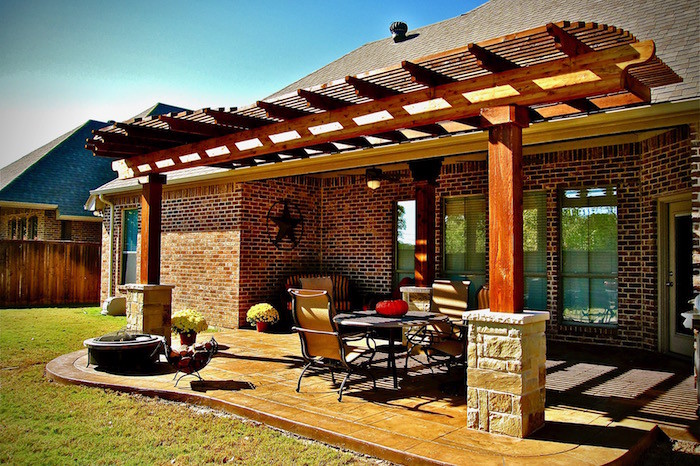 When the hot Texas sun beats down on you in summer time everyone is looking for shade. If you don't have a large live oak tree to sit under then a
Pergola
or
Patio Cover
are great options for your outdoor living area and they both have different and unique applications. When you are trying to decide on
which one makes the best sense
for your backyard there are a few things to consider. The first is, do you want to be out of the rain as well as out of the hot sun? Let's first talk about how Pergolas are designed and another name you may hear it called in Texas.
Pergola or Shade Arbor?
In Texas
we sometimes refer to the type of structures we build as a
Pergola
,
arbor
, or a
Shade Arbor
, to us, they are one and the same. Most of the pergolas are built out of rustic aromatic western cedar timber and are comprised of four parts that include shade rails, rafters, beams, and posts. The posts are typically 6x6 or 8x8 inches in size, with the 8x8 inch posts being the most popular option for our customers. The 8x8 inch posts are usually preferred because they are much stronger, look better, and give the overall structure a more massive appearance that so many people like to see. Attached near the top of the posts are your beams. The beams can come in a lot of different sizes but the main ones you will usually see are made of 2x8, 2x10, 2x12 or 4x12 size. In addition, you can opt to get them made with even larger timber such as 6x12 if you are looking for something truly massive. On top of the beams goes the rafters which most of the time will be 2x6 or 2x8 in size, this sometimes depends on how far they will need to span. On the very top goes the shade rails and they are mostly 2x2 or 2x4 with a 2-inch space between them. The closer you space them and the bigger the lumber you use the more shade you have. The ends of the rafters are typically cut in a curve or a 45-degree angle to make them look more decorative. Since the pergola has an open top you do lose the ability to keep out the rain but you get the advantage of being able to see the stars at night when you sit under it so it is the perfect place to have a romantic dinner or entertain guests while star gazing. In addition, they are quicker and less expensive to build than a patio cover with roof.
Patio Covers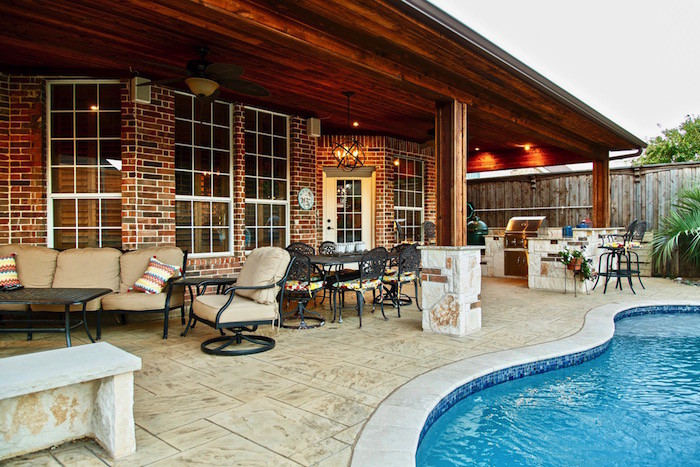 Our
patio covers
are perfect for those individuals who want to not only escape the sun but also get out of the rain. The
patio cover
will usually have a shingle roof that will match the type of roof you have on your home. There are a few options on how to build the underside of the patio cover. The first and most popular way in DFW area is using a cedar 1x6 board on the underside with the cedar rafters exposed so you can see them. For a more finished look you can choose to hide the rafters under tongue and groove 1x6 cedar planks. Either way you choose will look good and the materials and cost to build are virtually the same for most projects. The reason cedar is used in most of our outdoor living Patio covers, Pergolas, or Shade Arbors is due to its good insect resistance, and because it does not rot easily. This makes it great in wet weather or high humidity, as well as being very lightweight material compared to other types of lumber, and is more durable for outdoor use. A second option for the underside of the patio cover is to use a painted Hardiboard type material to match what is on your existing home. Many of our younger clients are choosing this option for a more contemporary look.
Attached or Free Standing?

Both Pergolas and Patio Covers can be built either attached to your home or free standing. Which one you can build may depend on what city codes you have in your area and how much space you have. Easements, setbacks, and building lines must be considered as well as local city codes and HOA requirements. Our design team has knowledge of all these requirements and will check with your city and look at your home survey to determine what you can build in your outdoor living area. Attached structures work well if you want to keep the area close to your home and detached free standing pergolas and patio covers look great in yards that have a lot of open space to fill, look great near pools, and give the outdoor living area a grand appearance.

Lighting & Fans
One other thing to consider is the use of lights and ceiling fans. Nothing makes your pergola or patio look better at night than using LED, Low volt, or standard lights under it. The most popular option our customers now choose are LED light fixtures because they are small, use very little energy, and last for many thousands of hours. A ceiling fan will help to create a gentle breeze when needed to cool things down a bit and keep small insects away. It is best to choose a fan that is the right size for your area and has enough power to create the amount of air movement needed. For larger areas or structures with tall ceilings, multiple fans may be desired. When choosing a fan for outdoor use it is best to purchase a "wet" rated fan that will keep its sensitive electrical components dry.
Larry Gucciardo
is the CEO and founder of
Dallas Outdoor Kitchens & Hardscape
. He has 25 years of experience in sales, design, and construction in the swimming pool and outdoor living industry. For more information on pergola and patio covers contact him via his website:
www.dallasoutdoorkitchens.com
Larry and Jarrad were very professional throughout the multi task job. We had an indoor rock wall constructed from floor to ceiling around our existing fireplace. The subs they use are true craftsmen and really care about the finished product and insuring the customers satisfaction. They are good people.
I found Dallas Outdoor Kitchen online and knew they were going to be the contractors I hire after reviewing all of their work and talking to Larry Gucciardo, Jerrad Jasperson, and their dynamic staff. The quality of their work was pristine and the project came out better than we imagined! Cheers to a job well done!
We had a great experience working with Larry and his team. The design process was easy, we had several options to choose from and the install team was very good, well-organized, clean and great to work with. Project was finished on budget and on time. I would definitely call them again for another project.