Outdoor Fireplaces & Fire Pits

Dallas Outdoor Kitchens and Hardscape ~ Proudly serving the greater Dallas TX area.
By Larry G. October 1st, 2017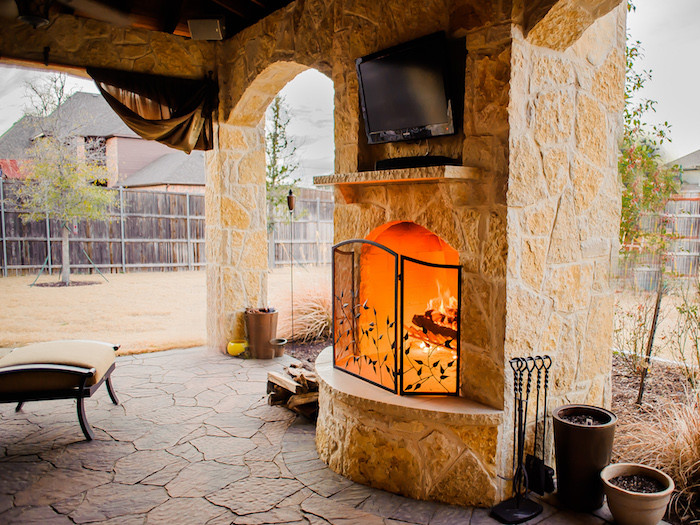 Autumn is a good time of year to start to think about the change of seasons, cooler weather, fall colors, and extending our outdoor living season by installing an outdoor fireplace or fire pit. If you already have an
outdoor kitchen area
then a fireplace or firepit may be your next item to consider adding on to your backyard area.
An outdoor fireplace or fire pit
can be built to burn wood or natural gas, and each has its own beauty and charm.
Fireplace or fire pit, which is right for your outdoor living area?
If you are looking to enhance your backyard living area then nothing commands as much attention as a handmade
natural stone fireplace
.
An outdoor fireplace
gives you a natural focal point where family and friends will tend to sit, have a favorite beverage, and spend time enjoying each other's company. If you add on a built in TV, then you can also watch the big game, the latest Hollywood blockbuster, or even play video games. People of all ages love to gather around the fire, tell tall tales about their latest vacation, fishing trip, or life event.
Outdoor fireplaces come in all sizes, shapes, and can be built using both brick or stone. The same is true for fire pits, although they are usually smaller in size they can also have some interesting features and come in a variety of shapes and sizes.
Gas or Wood burning?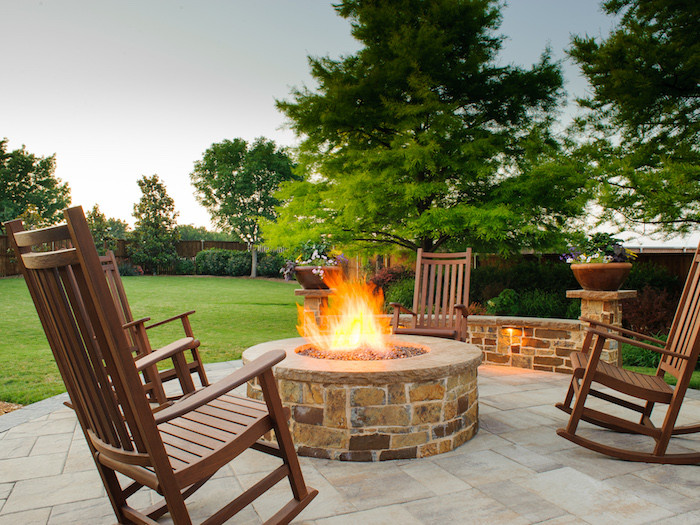 When you consider building
an outdoor fireplace
or
firepit
you need to decide whether you would like to have it burn wood, gas, or a combination of the two. Some people prefer to see and hear the natural cracking, and popping of real wood burning, others prefer to avoid a bit of the mess and smoke that comes with wood burning, for them, natural gas is a better alternative. If you don't mind cleaning the fireplace or fire pit then wood may be your choice of fuel. It is hard to beat the dancing flames, embers, and sparks that real wood will provide. You do have to buy, store, and keep your wood dry and that may be more work than some people would like to do.
Today, there are a lot of choices for gas fireplaces and fire pits including real looking logs as well as more modern looking ones with fire glass that comes in a large variety of colors.
In Dallas
, we see a trend for the modern look with the younger millennial group of customers, and more of the traditional look with the older group. Either way, they both make for an outstanding feature in your outdoor living area. One thing to also consider is what your city codes are for wood burning versus gas and your builder or city permitting office can answer those questions for you.
Check our fireplaces & fire pits photo gallery.
Cost considerations for outdoor fireplaces and fire pits

Outdoor fireplaces tend to cost more to build simply because they are usually much larger, take more materials, and involve more labor to build, however, if you build a large fire pit, include stone seating, LED lights, and remote controls for lighting the fire pit you can easily spend just as much as a traditional stone fireplace. If you want to include natural gas then your cost goes up too because of the labor to install a gas line from its source which can sometimes be a long way from your fireplace or fire pit.
Your outdoor living builder will be able to determine where the gas must come from and what cost there is for that. Generally speaking,
an outdoor fireplace in the Dallas
market will start about
$10,000
and go up from there depending on the height and width being built and
a fire pit
will start about
$2000
for a basic wood burning model.
Placement is important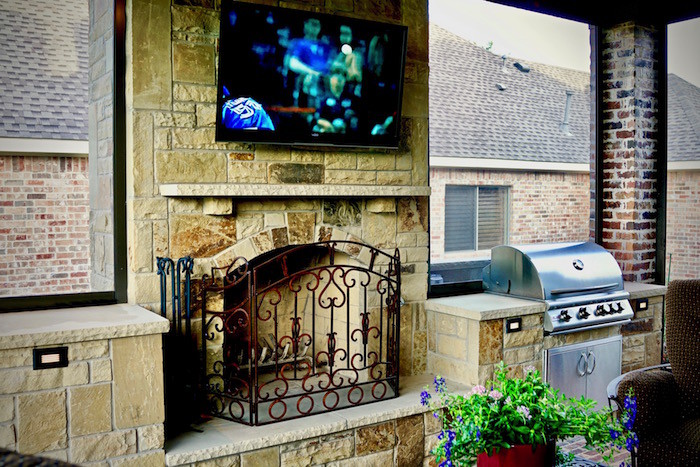 The location of the fire pit or outdoor fireplace
is an important consideration and careful planning is advised, especially if either are to be wood burning. Good traffic flow is essential as fire features tend to be where many people will gather. Also, prevailing wind direction can play an important part if wood will be the source of your fuel. Too much smoke can ruin a great party so a good location for your fire feature is key to successful design. Your outdoor living contractor should be well versed in location, fire codes, and local laws regarding
your outdoor fireplace or fire pit
and can give you good tips to consider when you are ready to build one.
Add enjoyment and value to your home and life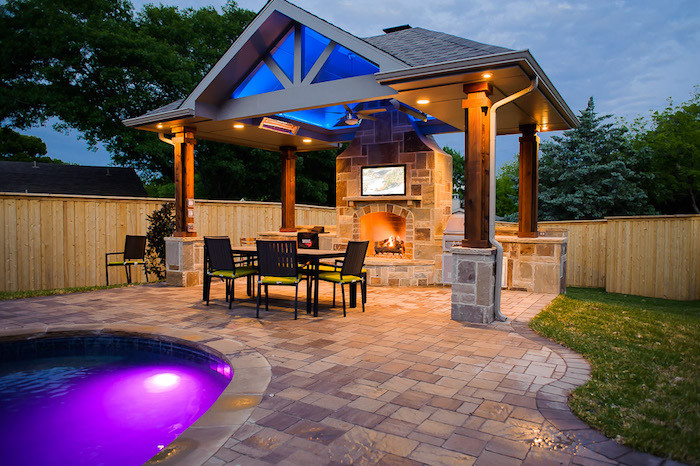 Outdoor fireplaces and fire pits
may not only add enjoyment for you, your family, and friends but it may also
increase the resale value
of your home. A well designed and expertly built outdoor fireplace or fire pit can become the center piece of your entertaining area and can be a cozy place to spend time outdoors in the cooler fall and winter months. They can extend the time you can use your outdoor living area and add warmth. Picture yourself with your family and friends sitting outside by a roaring fire and looking up at the stars in the night sky while you enjoy a cup of hot chocolate, or your favorite beverage, what could be better than that?
Dallas Outdoor Kitchens and Hardscape
is an expert outdoor living builder and we would love the opportunity to create your fire feature in your outdoor living area. Give us a call to discuss what we can build for you. We will sit down with you and
create a design
that you will be proud to own.
For homeowners and others in the North Dallas & Collin county area, call us today at
214-908-0677
or fill out
our contact form
.
Larry Gucciardo
is the CEO and founder of
Dallas Outdoor Kitchens & Hardscape
. He has 25 years of experience in sales, design, and construction in the swimming pool and outdoor living industry. For more information on pergola and patio covers contact him via his website:
www.dallasoutdoorkitchens.com
Larry and Jarrad were very professional throughout the multi task job. We had an indoor rock wall constructed from floor to ceiling around our existing fireplace. The subs they use are true craftsmen and really care about the finished product and insuring the customers satisfaction. They are good people.
I found Dallas Outdoor Kitchen online and knew they were going to be the contractors I hire after reviewing all of their work and talking to Larry Gucciardo, Jerrad Jasperson, and their dynamic staff. The quality of their work was pristine and the project came out better than we imagined! Cheers to a job well done!
We had a great experience working with Larry and his team. The design process was easy, we had several options to choose from and the install team was very good, well-organized, clean and great to work with. Project was finished on budget and on time. I would definitely call them again for another project.